《破傷風》A solo presentation by pppphilipppp



︎------------------------------------------------------------------------------------------






《朝覲 Pilgrimage》

八月四號 August 4th 2020
皇后山軍營 Queen's Hill Camp

Artists:
Jennnital
Chen Pin Tao
Kwan Ho Wong
B.Maus
Chung
suze陳
Keith Sin
Vunkwan
Mandy Chiu
Clara Wong




︎------------------------------------------------------------------------------------------




︎------------------------------------------------------------------------------------------


《我係大海,你只係水馬騮。》I am the sea, you're just a sea monkey.

May 31st 2020
Noah's Ark, Ma Wan.

Artists:
Clara Wong
Mia Chu
Jennnital
Suze陳
Keith Sin
Mandy Chiu
B.Maus
Bobby Chan-Chan



︎------------------------------------------------------------------------------------------







《Thirst For Annihiliation》A solo presentation by Chen Pin Tao 6.o.6.6.y.C.C.

In one of the densest cities in the world, spatial scarcity had led to a mass population of the working class living in borderline inhumane domestic conditions. Chen Pin Tao 6.o.6.6.y.C.C expresses the tension between material existence and spatial scarcity in the form of a series of large scale sculptures all made in a micro studio, which ultimately ends with destruction and the thirst for metamorphosis.





︎------------------------------------------------------------------------------------------




《Quarantine Residencies》
April 19th 2020
火炭駿洋邨藝術家駐留項目 2020
Fotan Chun Yeung Estate Quarantine Centre Artist Residency Program 2020
Location: Fotan, Chun Yeung Estate
地點: 火炭駿洋邨隔離營
Artists:
Chenyuen1314
Suze Chan
Jennnital
Betty B
Whampoa Mayor
我係黃埔市長。今日係二零二零年,四月十八號。頭先放工同離職既同事去尖沙嘴食farewell 飯,諗住天下無不散之延吉,最後晚餐食好啲。行行下見到有間日本嘢,好似唔錯。入到去京笹居酒屋,個侍應用個紅外線探熱器探我個額頭。仆街,38°C 度,今次奶曬嘢,在場各同事即刻驚鳩左,我就當然拿拿臨走人,費事嚇親人。
係黃埔市長。今日係二零二零年,四月十九號。我被安排入住火炭駿洋邨隔離營,展開我一連14日既藝術家駐留計畫。
I am Whampoa Mayor. Today is 2020, April 18th. After I got off work, my colleagues and I went to Tsim Sha Tsui to have a farewell dinner to celebrate the departure of one of our colleagues. We decided to treat ourselves with Japanese delicacies, and went to Jing Saju Izakaya. Upon entering, the waiter used an infrared detector to check my temperature. Fuck, 38 °C. I froze up and wondered if this will be the end of me, my colleagues were freaking out.
I am Whampoa Mayor. Today is 2020, April 19th. I was arranged to enter the quarantine camp in a government re-appropriated quarantine camp in Chun Yeung Estate, Fotan. The site was originally a newly built public housing estate. This is the beginning of my 14 day artist residency program.
︎------------------------------------------------------------------------------------------
CAMOUFLAGE
《CAMOUFLAGE》 - March 15th 2020
Humans are simple organisms,
But they pretend to be machines,
Machines are simple organisms,
But they pretend to be trees.
Artists:
B.Maus (@du_bist_eine_kleine_maus)
Keith Sin (@swandivingintoconcrete)
Jennnnital (@jennnital)
Chen Pin Tao 6.o.6.6.y.C.C (@pelvishead)
︎------------------------------------------------------------------------------------------
CHAOS MANIFESTO 混沌宣言
Art needs to be contextually transformative, beyond the safe, artificial, and plastic bubble that is the gallery and into the real world.
We are no longer interested in the idea of exhibition.
Duration, physicality, and the encounter between subject and object are no longer important. Art and the experience of art exists in the virtual as an image lived on forever until the end of the internet.
The artist is a participant in guerilla warfare, utilizing quickness against the slow cancellation of culture.
Chaos replaces the intellect, attacking reality and generate new knowledge of the world.
︎------------------------------------------------------------------------------------------
NEW BABYLON 新巴比倫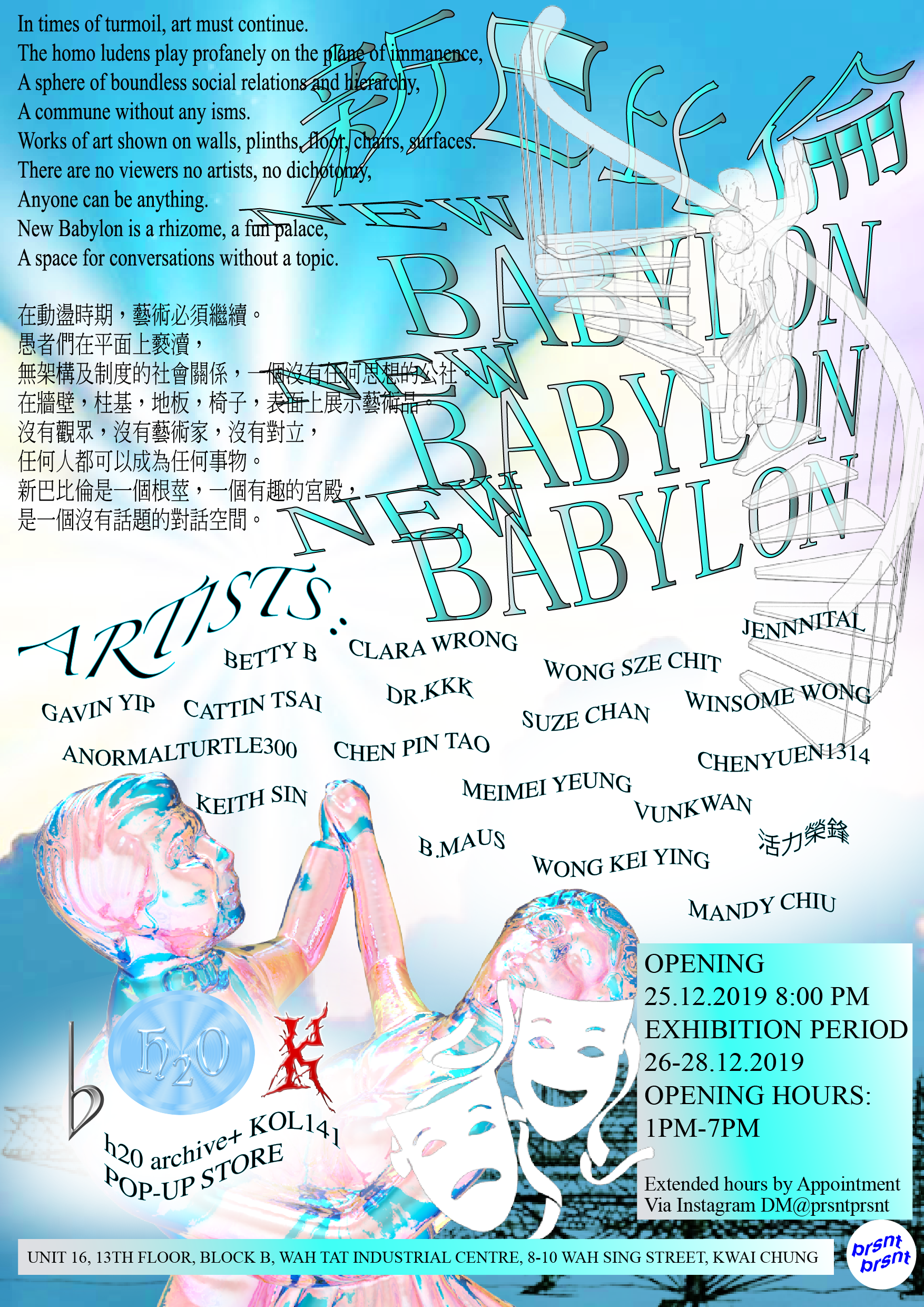 ☁☁☁☁☁☁☁☁☁☁☁☁☁☁☁☁☁
Opening Reception
December 25th 2019, 8:00pm
Unit 16, 13th Floor, Block B, Wah Tat Industrial Centre, 8-10 Wah Sing Street, Kwai Chung
☁☁☁☁☁☁☁☁☁☁☁☁☁☁☁☁☁
In times of turmoil, art must continue.
The Homo Ludens play profanely on the plane of immanence,
A sphere of boundless social relations and hierarchy,
A commune without isms.
Works of art shown on walls, plinths, floor, chairs, surfaces.
There are no viewers, no artists, no dichotomy,
Anyone can be anything.
New Babylon is a rhizome, a fun palace,
A space for conversations without a topic.
在動盪時期,藝術必須繼續。
愚者們在平面上褻瀆,
無架構及制度的社會關係,一個沒有思想的公社。
在牆壁,柱基,地板,椅子,表面上展示藝術品。
沒有觀眾,沒有藝術家,沒有對立。
任何人都可以成為任何事物。
新巴比倫是一個根莖,一個有趣的宮殿,
是一個沒有話題的對話空間。
☁☁☁☁☁☁☁☁☁☁☁☁☁☁☁☁☁
Artists:
Betty B
anormalturtle300
Cattin Tsai
chenyuen1314
活力榮鋒
Clara Wrong
B.maus
Keith Sin
vunkwan
Wong Sze Chit
Winsome Wong
Gavin Yip
Mandy Chiu
jennnital
Meimei Yeung
Dr.kKk
Suze Chan
Wong Kei Ying
Chen Pin Tao
☁☁☁☁☁☁☁☁☁☁☁☁☁☁☁☁☁
Video Cypher X PRSNT.CONTEMPORARY
⌘⌘⌘ Cypher Vol. 7: Neo-fetishism 新拜物主義 Screening 放映會 ⌘⌘⌘
~ Let's watch and chat ~


Date 日期:21/7/2019 (Sun 日)
Time 時間:8PM–
Venue 地點:PRSNT.CONTEMPORARY
11F Goldfield Tower, Wuhu Street, Hung Hom
紅磡蕪湖街金輝行11樓

⌘ Participants 參加者 ⌘
Bobby Chan-Chan
shealwaysappears
Joseph2015chen a.k.a. Yungseph2015
Joy Lee
Van Se
Kathy Wong Cheuk Wing
Kelvin T
Ding Cheuk Laam
Wing Sze Ng
Winsome Wong
Gavin Yip & Myoz Lai
Lee Teeda
Mandy Chiu

⌘⌘⌘⌘⌘

In the post-digital age, we are no longer exhilarated by the potential of technology. Science was once thought to be the ultimate truth that will lead humanity towards utopia, but behind it's facade lurks a much more complex and sinister reality, similarly with organized religion and the digital revolution.

Since the beliefs of yesterday could no longer guide us, we turn to self-imposed rituals and personalized belief systems as coping mechanisms for an increasingly schizophrenic world. Ironically, the religions of cultural minorities were first identified as fetishes and targeted by organized religions for erasure. Perhaps the ancient tribes were not as naive as we thought.

In a time when nothing means anything/ everything means nothing, subjectivity triumphs over objectivity, what can be used as a crutch to explore the ever expanding territories of the unknown, and accelerate our imagination of the future?

在這後數位時代,我們不再被科技的潛力所激發。科學曾被認為是將人類引向烏托邦的終極真理,但其背後隱藏著一個更為複雜和險惡的現實,有組織的宗教和數字革命亦然。

以前建立起來的信仰不再能指導我們,我們轉而採用自我加諸的儀式和個性化的信仰系統、作為在日益精神分裂的世界的應對機制。諷刺地,文化少數群體所建立的宗教被認為是拜物/戀物,並被有組織的宗教針對清洗。也許這些古代部落並非我們所想的那麼天真。

在這什麼都有可能又或什麼都沒有意義的時代,主觀勝過客觀,那有什麼可以作為一個支點、讓我們來探索不斷擴大的未知領域,並促進我們對未來的想像呢?





︎------------------------------------------------------------------------------------------





EXQUISITE CORPSE: "Neo- Deconstructivism: A Post-Duchampian approach to the object and the market"

A Post-Digital Performance artwork by Bobby Chan-Chan.











THE INTERNET IS THE THEATRE OF CRUELTY OF TODAY. THIS IS AN ACT OF SADOMASOCHISM, A PUBLIC DETHRONING OF THE ARTIST, LEADING HIM TO DESTROY HIS OWN WORK IN FRONT OF THE PUBLIC AS AN ACT OF ICONOCLASM, A PUBLIC EXECUTION OF THE ARTWORK AS PERFORMANCE.

Virtual performance, physical opening, this is an online event, bidding online via streaming chat room ONLY.

Performance Duration:
August 10th 8:00 PM To August 17th 8:00 PM

OPENING EVENT

AUGUST-10TH-2019 8:00 PM

RSVP@ DM prsntprsnt / Email prsntcontemporary@gmail.com

Dress Code: Casually formal





Artwork not sold is worthless, buildings not built are worthless.

Artworks are legitimized by being bought. Architecture legitimized by being built.

This performance work is a critique towards the capitalization of art as a verification of art, a critique towards the politics of space in relation to art mediums, and a critique towards the notion of art collection, and the politics of art ownership.

BOBBY CHAN-CHAN'S WORK IS FOR THE "PEOPLE".

The performance art will consist of me, auctioning my sculptural work from my studio starting at $1 USD via a Non-Stop live stream of my studio. Art should not be privileged for the 1%, though the statement is in itself contradictory as that is approximately the percentage of people that could comprehend contemporary art.

Since the majority of human beings lives in dense urban environments, I offer the options that the works can be bought as a whole, or DECONSTRUCTED. Everything will start at 1$ USD, whether it's a leg, a torso, or a head.

DECONSTRUCTION-A Post-Duchampian approach to the object.

The physical work is a carcass at the butcher-shop, wholes disintegrates into parts, and becomes an object in itself. It can also be read in terms of a tradition part-to-whole relationship, lost relics waiting to be unified again in due time, like a separated dinosaur fossil or a religious triptych.

The buyer gets to choose which part of which work they would like to purchase. I will be deconstructing works LIVE for the successful buyer, and signing the work after received payment. During the entirety of the live stream that lasts for a whole week, the streaming itself acts as a heterotopian online forum open to discussion of theoretical discourse of the arts, or anything, the internet has no boundaries. The internet is the theatre of cruelty of today.


Works Shown:

Being 001
Being 002
Being 003






︎------------------------------------------------------------------------------------------